So here's the final chapter in the series. For a recap, part 1 covered the issues you're likely to see, part 2 covered the configurations you should set up before you even start shooting.
Here's a sample video I quickly whipped up to illustrate what you can get with this technique. (Ignore the editing and lack of completeness, it was a quick edit just for illustrative purposes)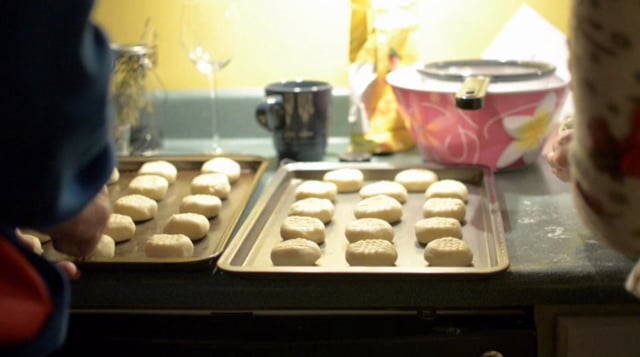 Now it's time to cover the settings for when you're about to shoot your video and then start shooting! (okay, first finish reading this article, then use the tips to start shooting).
1. Set Focus
First you want to focus on your chosen subject. This will help in evaluating your aperture and exposure choices.  If you're set up to use AF-S, get the red or green box on the screen surrounding your subject and half-press the shutter release button so the camera can use the auto-focus. If you're using manual focus, you can zoom in on the LCD screen to adjust your focus but it will pop back to full screen when you start recording and lock out the LCD zooming while recording.
You can always refocus later, but you want to start in the right range first. If you use a ring-focus AF lens, you can manually tweak your focus later without recourse or follow focus as you need. If you plan on using the AF to refocus, stop recording first or plan on cutting the refocus out later when editing.
2. Set Aperture
After your subject is in focus, you should set the aperture. This is the first point on the exposure triangle you should establish and although it's the one that gives you the most interpretation of your video look, it has to be done before you go into LiveView mode. When you enter into LiveView on the D5100 or D7000, the aperture is locked until you either take a picture or exit LiveView. What compounds this problem is you can still adjust your aperture, but the change is not reflected on the screen, only in the aperture number on the bottom of the screen.
To set the aperture, switch into Aperture Priority mode (the A on your mode dial) and then you can use the thumbwheel (back of the camera, top right side) to adjust to your desired aperture. DO NOT USE MANUAL MODE. Sure you can set your shutter speed and aperture, but once you start recording video, the camera will automatically adjust to a better exposure value, most likely kicking your ISO or shutter speed off of the pre-set values unless your exposure meter is metering at zero. It's easier to fix it with aperture priority mode.
Your choice of aperture should be dictated by the amount of light in your shot, how much movement you're going to track and how shallow you want your depth of field, in that order. So if you have low light, open up that aperture. If you have a lot of movement, you should raise your f-stop to a higher value to increase your depth of field and thereby allowing more lenient focusing choices. Lastly, if the other aspects are accommodated for, choose a lower f-stop to get that intimate shallow depth of field (ideally, as low as f3.5 or lower if your lens supports it) or higher (f16 or higher) to get everything into focus. Just keep in mind the range of ISO choices and whether the noise is going to be reasonable enough for your task at hand.
The reason you should consider your aperture in that order is the quality of your light is the first and foremost element limiting your choices.  If you want a deep depth of field, you have to make sure the light is accommodating for it.  Unlike still photography, you can't just drop your shutter speed and lock the camera onto a tripod to get the shot.
REMEMBER: If you find you need to adjust your aperture more, you will have to make the adjustment, exit LiveView and enter back in to actually set it for video recording. And when you do that, you should unlock and then re-lock your exposure to ensure you're shooting the values you're using as the exposure levels will have to change again.
3. Check and Set White Balance
Setting your white balance is critical, unless you want to turn your auntie into a member of the blue man group or prefer to see the red devil bursting out of that obnoxious kid down the street. White balance helps the camera to understand what you believe white to be under the current lighting conditions.
When you are preparing to shoot, check your lighting situation. Is your subject in the shade? Or bright daylight? Or an office setting? Enter into your shot settings by pressing that I button next to the viewfinder and set your white balance to match. Once you've picked your white balance, take a picture and preview it. Is it reading too warm or cold? Adjust white balance and try again.
If you have the time, manually set your white balance though the menu settings. It's unfortunate that you can only adjust or set the preset white balance through the menu, but the lower sticker cost on the D5100 means more work to get to those advanced features. Most of my shooting uses the standard WB choices in the shooting settings and I haven't had a lot of issues with it hitting a horrible choice yet.
You can use your white balance to give a warmer or cooler cast if that's the look you want to go for by choosing a warmer white balance to get a cooler (more blue) picture or vice versa to go the other way but it's usually easier to color correct in post than to shoot the right color cast in-camera.
If you really don't have the time, set white balance to Auto with the knowledge you'll be color correcting in post or accepting the less-than-optimal color balance the D5100 picks for you. It's also a bit challenging to match shots as they'll most likely be in different white balance settings between shots.
Why do you even need it in the first place? I could write another whole article on color theory and white balance, but wikipedia does a great job and even has the math behind it if you want to go that far.
4. Choose Picture Profile
While in the shot settings screen, choose your custom picture profile you saved in the last article. It will give the video more dynamic range and look a bit more professional. You can choose to use the other picture settings if you want, but as I've mentioned before, if you're going to be editing the video on your computer, you'll be able to color correct and you'll wish you used the minimal processing profile.
Try it, just once, and compare the differences. I expect you'll see the video shot with this profile appears more professional and it's easier to adjust the color of the footage later in post.
Just do it, you won't regret it.
5. Adjust ISO and Exposure
Now remember how I asked you to set your ISO adjustment to the Fn button? Now you can push the Fn button and use the thumbwheel to adjust the ISO up and down to get a shutter speed as close as you can to the ideal rate of 1/50 (for 24 fps) or 1/60 (for 30 fps).
If the light is too low or high, you won't be able to get to the ideal shutter speed. If the lighting is too low, you'll have to either accept more grain or find some lights to brighten up your scene. If it's too bright, you can use an ND filter to reduce the brightness.
Another option is to reconsider your aperture choice if there's adjustment still available. Open it up or close it down to find that ideal balance.
You can also "fix" the balance with exposure compensation so you can hit the target shutter speed. If you do so, you cannot adjust it after locking the exposure as it will alter the shutter speed or ISO for video to get its required shutter speed.
6. Enter LiveView Mode
Now you're ready to enter into LiveView mode. Flip that lever and see what you're getting for your shutter speed, f-stop and ISO. This should be giving you a good preview of what your video will look like when recorded.
LiveView is kind of a bridge point when shooting with the Nikon DSLRs. Specifically, aperture does not actually change until the shutter release is fully pressed (i.e.: you take a picture) or you exit and re-enter LiveView. Also the AE Lock values you locked in will probably be different without any indication of the difference without turning LiveView off and on again.
You should try to find the ideal exposure levels through the viewfinder to ensure your exposure is where you want it before entering into LiveView. Take a few pictures, make sure they're registering how you want. It also helps with tracking what settings you're using as the shot settings will be in the last picture before your video.
Don't bother with ending your video with a picture as you'll have about two seconds of the camera refocusing (if you're in AF mode) and the exposure blown out or toned down. Just don't do it.
While in LiveView, you can adjust your ISO and exposure compensation without any real recourse. Just be sure your shutter speed stays faster than your frame rate.
7. Lock Exposure
Now you have your shutter speed at your target rate, your aperture in the right range and ISO at an acceptable noise level, press the AE/AF Lock to lock your exposure down. Double check your ISO and shutter speed to ensure it did indeed lock at your target shutter speed.
Since we set the AE/AF Lock button to AE Lock (Hold), we don't have to worry about the exposure sliding around on you and consequently either bumping the ISO too high or flipping around the shutter speed. This is the final, crucial element in fixing our video quality to a consistent, detailed level.
Start Shooting!
You're all set! Start recording your vid. Give yourself at least two seconds lead-in and the same after all the action has finished so you have blend time for your transitions between shots.
So that covers the gist of improving the quality of the video you can capture on the Nikon D5100. A little bit of an obstacle course, but once you go through it a few times, it becomes second nature. Give yourself the time to do it and enjoy it.
One things to keep in mind: you can muck around with the order of these as you see fit, but remember you must exit and re-enter LiveView when you alter the aperture and have to unlock your exposure before playing with exposure compensation.
Now get out there and show people what this camera can do!